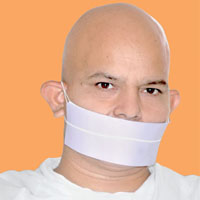 Jain Vishva Bharati Institute is a significant achievement of Jain Society. It is serving humanity significantly through spreading Jain studies. So far many monks, nuns, lay-followers got the opportunity to study and obtain formal degrees. It is also significant in respect of studies of ancient languages like Sanskrit, Prakrit, etc. It has progressed in field of research.
The vision of H.H Acharya Shri Tulsi and H.H Acharaya Shri Mahapragya is always with the development and growth of this institution. The institute is celebrating its year of silver jubilee. I think its an occasion to review the past and plan concretely for future and step towards its execution. This institution should undertake spiritio-educational activities. The purpose of students and faculties of this Institution is not only to gain knowledge but implementation of it should be the prime motive.
Profile
| | | |
| --- | --- | --- |
| Name | : | Acharya Shri Mahashraman |
| Original Name | : | Mohan Dugar |
| Birth | : | 13 May 1962, Sardarsahar (Rajasthan) |
| Initiation | : | 5th May 1974, Sardarsahar (Rajasthan) |
| Initiation Name | : | Muni Mudit |
| Initiated by | : | Muni Shri Sumermalji (Ladnun) |
| Guru | : | Acharya Shri Tulsi |
| Designated Acharya | : | 9 May 2010, Sardarshahar |
| Patotsav | : | 23 May 2010, Sardarshahar |
Acharya Mahashraman is the 11th Acharya of Terapanth sect, who is highly venerable saint, yogi and spiritual leader. Despite being an Acharya of a religious order, his views are liberal and secular. He has a firm conviction to promote nonviolence, moral values and diligent work.
With great honour, the Ex-President of India, Smt. Pratibha Patil congratulated Acharya Mahashraman for his contributions towards the social development of the Nation and said, "You are also working for Women development and Environment protection. Greeting your excellent, serene and legislative authorship, we request your cooperation in creating a peaceful society globally." President of India, Shri Pranab Mukherji have also congratulated him for his good work and bestowed his best wishes for the success of the Ahimsa Yatra.
Now-a-days he is in Kolkata, leading an 'Ahimsa Yatra' in India and abroad. He started from Delhi (November 2014) with the motto of developing morality, communal harmony and addiction free nation. He has also been awarded with the awards 'Santa Siromani' and many others. Due to his incredible services towards humanity and nation, he is known as 'Mahatapasvi Mahashraman'.
Acharya Mahashraman has immense knowledge of the languages like Hindi, Sanskrit, Prakrit, Rajasthani, Gujrati and English. He is profound speaker and writer. He has also given comparative speeches on Shrimad Bhagawat Gita and Uttaradhyayan (Jain Canon).
https://en.wikipedia.org/wiki/Acharya_Mahashraman
http://www.acharyamahashraman.in/profile/acharya-shri-mahashraman
https://in.linkedin.com/pub/acharya-mahashraman/9a/54b/850
http://www.herenow4u.net/index.php?id=104714