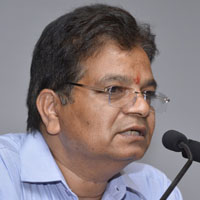 "Learning gives creativity, Creativity leads to thinking,
Thinking provides knowledge, Knowledge makes you great".
-Dr. A.P.J. Abdul Kalam
Former President of India and a very close collaborator of
Acharyashree Mahaprajna
The Jain Vishva Bharati Institute is committed to a value based integrated educational philosophy. We welcome student's community, faculty members and other staff to join us in building human resource with a clear vision of ethical and moral values of global relevance, as envisaged by the great saints including Ganadhipati Tulsi, Acharya Shree Mahaprajna and Acharya Shree Mahashraman ji; the present Anushasta. JVBI is indeed a movement for an ethical and moral paradigm shift in educational methodology in order to produce leaders for social change. We as a university believe in professionalism coupled with ethical and moral commitment leading to development of a holistic personality. This makes us not only a different education institution but also places great responsibilities on us to maintain highest standards of academic and moral excellence.
The University is committed to offer state of the art academic programmes as well as to create conducive environment leading to research and development to our students and faculty. The creation of JVBI is a step forward toward rigorous quality assurance in education and production of research. Our mission is to impart knowledge, employable skills and leadership qualities in students, in addition to character building that makes JVBI education holistic and the students a global citizen, who are the epitome of highest ethics and social conduct. Thus, the responsibility lies with us to nurture complete professionals, who can rightly be termed as 'Karam-Yogis'.
JVBI has become a jostling centre of human growth and excellence; where the lush green, peaceful ambience with beautiful dancing peacocks, innovative educational programmes, appropriate human resource management, high quality research and technology assisted monitoring mechanism enable academicians to take responsibility for social, economic and scientific development of the country.
We encourage our students to manifest their creativity in the guidance of qualified, experienced and dedicated in-house faculties and visiting faculties. Interdisciplinary programmes offered by PG and UG departments in regular and correspondence mode helping the students to achieve the goal of knowledge, wisdom, purity of human growth and excellence academia. JVBI has signed MOU with international elite universities like FIU (USA), UNT (USA), Ghent (Belgium) etc.
I welcome all the students who chose to be a part of this premier University, I am sure that you will feel proud on being associated with us and make us equally proud with your academic excellence.
Join us. LIVE the future with us.