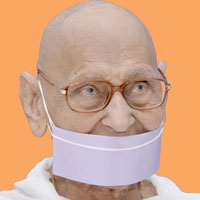 The establishment of JVBI is purposed for intellectual as well as character development, hence the maxims of non-violence, non-absolutism, and science of living is afflicted to it. It is the ultimate truth that the moral values do not develop without enrichment of non-violence. The development of vision of non-absolutism is must, without which co-operation, peaceful co-existence is not possible.
This institution is unique where there is spiritual development along with intellectual development. Institute should train students with the values of compassion, morality, spirituality where life is the conceptualized through the development of integrated personality.
Profile
| | | |
| --- | --- | --- |
| Name | : | Acharya Shri Mahapragya |
| Original Name | : | Nath Mal |
| Birth | : | 14th June 1920, Tamkor (Rajasthan) |
| Name of Parents | : | Shri Tola Ram Choradia & Smt Balu |
| Initiation | : | 29th January 1931, Sardarshahar (Rajasthan) |
| Initiated by | : | Acharya Shrimad Kalu Gani |
| Guru | : | Acharya Shri Tulsi |
| Acharya | : | 5th February 1995, Delhi |
| Yugpradhan (Pradhan of the Era) | : | 19th September 1999, Delhi |
| Journey by Foot | : | Above 1,00,000 km |
| Writings | : | More than 150 books on various subjects |
Acharya Shri Mahapragya (14 June 1920 – 9 May 2010) was the tenth head of the Svetambar Terapanth order of Jainism. Besides this he was great scholar, philosopher and an outstanding writer.
He began his life of religious reflection and development as a Jain monk at the age of ten. His education at the monastery included history, philosophy, logic, and grammar. He made an in-depth study of Jain scriptures, became a scholar of Jain Agamas, and a critic of Indian and western philosophy. By the age of 22, he was competent in Hindi, Sanskrit, Prakrit, and Rajasthani languages and literature. In Sanskrit, he was also an expert impromptu or extempore poet and demonstrated this skill in many gatherings of intellectuals. He also studied physics, biology, ayurveda, politics, economics, and sociology.
He formulated the well-organized Preksha meditation system in the 1970s and developed the "Science of Living" education system that is a practical approach for the balanced development of a student and his character building. He had edited and translated many Jain Canons and literature.
He traversed more than 100,000 km on foot covering more than 10,000 villages reaching out to the masses spreading the message of harmony and peace. He walked across the length and breadth of India from Kutch District in Gujarat to Kolkata and from Punjab to Kanyakumari. Mahapragya undertook this travel under the leadership of Acharya Tulsi and later with himself being the leader. During these travels, he addressed thousands of public meetings. Mahapragya, an apostle of nonviolence, launched the Ahimsa Yatra movement in 2001 which continued until 2009 to promote non-violence and harmony.
https://en.wikipedia.org/wiki/Mahāprajña
https://www.facebook.com/acharyamahapragya
http://www.preksha.com/founders/preksha243meditation.asp
http://www.amazon.com/Acharya-Mahapragya/e/B003NP21J2