International

Summer School

A 21 days International Summer School of 'Understanding Jainism' is organized every year from 21 July - 12 August. This programme emphasizes on the study of Indian Culture and Philosophy, specially Jain Philosophy, Ethics, Non-violence, Meditation, Art & Architecture and life-style in India. It is interdisciplinary in nature, with participating faculty of the Humanities, Social Sciences and Linguistics.
Objectives
To understand the concept and ideas of Jainism.
To develop understanding and attitude of nonviolence.
To familiarize the participants with the philosophy of creative non-violence in India.
To impart training of Preksha Meditation for emotionally balanced life-style.
To establish the importance and relevance of amity for the survival of living being.
Why to Join UJTP at JVBI
There are many reasons why someone would want to join UJTP at JVBI. Salient features and some of the distinct advantages of the programme are :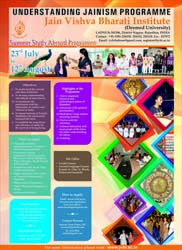 Well renowned faculties & experts
Economical & viable tuition fee
A modular academic/training programme structured on the basis of semester system
Well-equipped computer centre
E-mail, internet facilities
A pollution free, nature endowed and spiritual campus
A location that is easily accessible to the four cities - Jaipur, Jodhpur, Ajmer & Bikaner
Indigenous set up of the township.
Who Can Apply
The program is aimed for foreign students provided they meet the general prerequisite of proficiency in English. The following could be possible applicants:
Universities and their international study divisions or study abroad programmes
Universities having programmes offering courses like Cross Cultural, Religious, Peace, Theology, Social Science & Humanities
Institutions with South Asian Studies programme
Higher education Universities or Council of International Education
NRI groups or associations
Trade & Business Delegations or groups
Individual students.
Course Credits
The programme has Undergraduate and Postgraduate courses of 3/4 week duration. The number of credits a student can take in this programme depends on the agreements with individual students or agreement reached with the Institute or participating institution.
Course Content
| Jainism | Science of Living, Preksha Meditation & Yoga | Applied Non-violence & Peace in Jainism |
| --- | --- | --- |
| Introduction to Jainism, Life of Mahavir, Jain Prayer and Mantra, Jain Literature, Jain Life Style, Life of House Holder, Jain Asceticism, Path of liberation, Nine Tatvas, Six Substances & Jain Cosmology, Jain Art & Architecture, Karma Theory, Theory of Knowledge, Jain symbols & Ceremonies, Art of Dying: Santhara, Concept of Nayavada, Status of Woman in Jainism, Jain Diaspora. | SOL- an Innovative system of Education, Jain Meditation-Then & Now, Nurturing Factors of Meditation, Stress Management & PM, Anupreksha-Auto Suggestion & Contemplation, Leshya Dhyana-Color Meditation, Chakra Meditation, Healing through Sound Energy, Scientific Research in PM, SOL-De-addiction & rehabilitation, Asana & Pranayama, Indian Traditions of Meditations, Value Education & SOL. | Conceptual Development of Nonviolence, Crusaders of Non-violence, Training in Nonviolence, Conflict Nature and Types, Conflict Resolution, Reverence to Life, Nonviolent Communication, Ahimsa Yatra, Nonviolence : An Antidote to Social Problems, Victory without War, Facets of Peace, Peace Economics, Peace Movement, Environmental and Nonviolence, Vegetarianism, Gandhi and Mahaprajna, Rural Development, Human Rights and Duties. |
Special Highlights of the Programme
Visit to places of archaeological and historical importance in and around Ladnun
Interaction with spiritual personalities (monks & nuns)
Meditation / Yoga session (morning session)
Visit to wild life sanctuary
Cultural interaction with local people of the town for better understanding of culture
Trekking
A study tour of one week covering Jaipur, Pushkar, Ajmer, Jodhpur, Nakoda, Osiyaji, Bikaner and many other places, is organized for the participants. For fee, date and other details contact coordinators.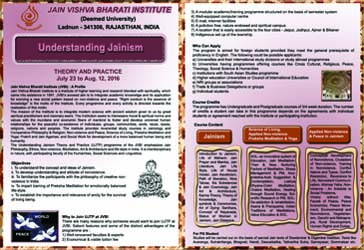 Contact Person
Coordinators
Prof. Samani Riju Prajna, This email address is being protected from spambots. You need JavaScript enabled to view it., Mob. 9664270839
Dr. Yogesh Kumar Jain, This email address is being protected from spambots. You need JavaScript enabled to view it., Mob. 9413142180
Academic Convener
Dr. Samani Shreyas Prajna, This email address is being protected from spambots. You need JavaScript enabled to view it.
Samani Amal Prajna, This email address is being protected from spambots. You need JavaScript enabled to view it.